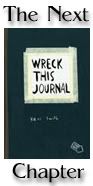 Welcome to the New Home of my 'Next Chapter' blog home
I have decided to place this phase of the book group for 'Wreck this Journal' on this blog as its time to scale down, it also felt right...
Unlike the idea of Wrecking a Journal ....
When
Book group

creatrix

Jamie

Ridler
notified us that we were going to be working with this book I was excited. However when the book came I just stared at it perplexed, telling myself 'this was not going to be fun anymore'
lol
. So I put the book down for a few days, anyway after poking holes and scribbling in my book I realised that
a) I didn't have to cook a meal so that I could spill rub it in my food (that will come)
b) I didn't have to climb the tree that houses the Magpie family just so I could drop the book from a great height.
c) I didn't have to worry about 'the right way' to wreck the journal just enjoy the process....
At first I worried about how much wrecking to do etc etc but then I checked out Jamie's post and she said that we its best to pace ourselves as this group gos on till July very true ..... even destruction has its own time.
Also after reading blogs about firecrackers and friends stealing the journal I feel that its time to enjoy my self with the journal and not take it so seriously.
Normally I am very controlled with my entries, but the influence 'outside the box' nature of this book saw me post week 1 and week 2 together, yes I am just enjoying the process of wrecking my journal...
p.s the book has disappeared and gone for a walk ????